Coffin It Up - Jewelry Station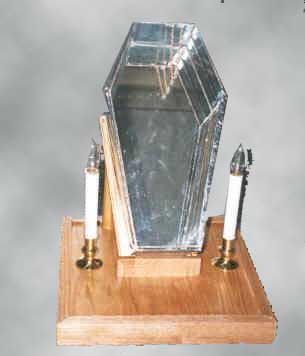 Jewelry Station
Glass coffin (15"x7"x4"). The stand is made of oak with a natural finish. The glass coffin has a chain on the door and little jewelry hooks inside. The base is 13" square and also has two battery operated candle lights.
Close window to return to the Coffin It Up Coffin Gallery, or click here if you arrived at this page via a search engine.
---
The "Coffin It Up" logo and all photos on this site Copyright ©2002-2006 by Coffin It Up.
Updated on ... May 27, 2003